Drumming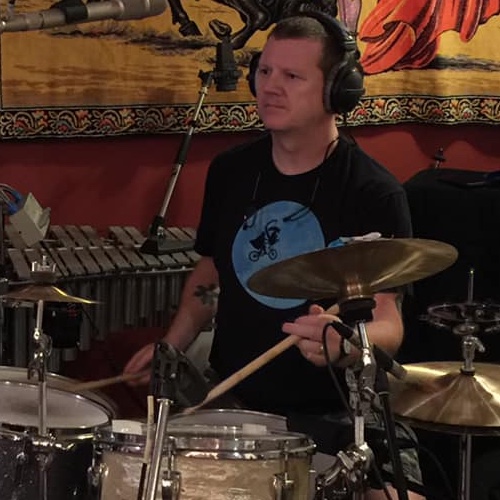 I've been playing the drums since the spring of 1980. I got my first set of Westbury drums just shy of my tenth birthday. My Dad helped me set them up in the basement and showed me how to play my first ever beat: the intro to the reprise of Sgt. Pepper by the Beatles. From then on I was hooked.
Self-taught, I started gigging around the Toronto scene in a punk/hardcore band during my mid-teens called Death of Gods (D.O.G. – 'twas cool then for bands to have acronym names) in which I got my first taste of playing gigs in and out of town and recording in a proper studio.
I drifted in and out of a few crossover/metal bands during the late 80s and became interested in jazz fusion, which eventually piqued my interest in be-bop and post-bop. I then decided it was high time to get serious about taking some lessons and practicing more than just Dave Lombardo licks on the double bass drum pedal.
In my mid-20s, I was fortunate to be introduced to a great man and brilliant teacher, Jim Blackley, whom I studied with on two multi-year occasions over a 20 year period. Mr. Blackley opened up my thinking, hearing and playing with regards to drumming and music, as well as introducing me to some approaches to the overall big picture of what we're all doing here. His teachings still bring me to the practice pad with the metronome at 40 bpm.
Whilst becoming serious about my jazz playing, I found myself splitting time between rock bands and jazz workshops, which lead to playing jazz gigs with various local groups and bandleaders.
In 2015, I began studying Brazilian pandeiro with Alan Hetherington, and subsequently joined his Escola de Samba de Toronto, based out of the Royal Conservatory of Music. I also perform regularly with his A Fanstastica Bateria.
I'm still playing pop, rock, blues, and noise/hardcore.
Over the years I have been fortunate enough to share the stage and/or studio with a plethora of brilliant musicians that have elevated my playing.