So, "rags-to-riches" sensation, Shania Twain, was in Toronto yesterday to promote her new Shania fragrance. One of the Monday-to-Friday freebie newsrags this morning featured her on its cover with some witty copy like "Shania's Scent-sation", or something equally as bad. She's then off to Ottawa to receive her well-deserved Governor General's award.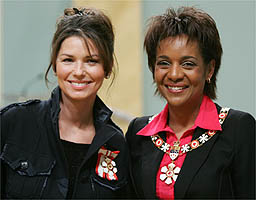 Too bad tommorw's Saturday. It would have been kinda fun to see "Shania's Odour of Canada" or something just as tasteless being splashed about.
The wife came up with that one.