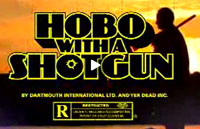 On the streets there is only one law, and he is going to deliver justice one shell at a time.
So goes the premise for this Troma-like (and definitely NSFW), awesome, Canadian-made trailer by Dartmouth, Nova Scotia filmmakers Jason Eisener, Rob Cotterill, and John Davies. Supposedly, the deal is that it was shot for $100 (I'm assuming in Canadian $$) in under three weeks for submission to Robert Rodriguez's _Grindhouse Trailer_ contest at this year's SXSW.
Here's hoping our east coast brethren take the prize!
UPDATE: You can check out some of the other entrants over on the YouTube.